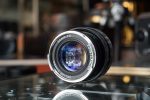 The Voigtlander 50mm f/2 Heliar classic is a modern alternative for the old Leica collapsible lenses. It has a solid build quality and modern coatings giving it nice and contrasty images.
This lens is in good but slightly worn condition with small parts of the black chrome finish having worn off the focus ring. Mechanically the lens feels very smooth and well built. Optically the lens is in very good condition with only some very faint cleaning marks.
A nice and not often seen Voigtlander lens for Leica M mount.
The post Voigtlander 50mm 1:2 Heliar collapsible, Leica-M appeared first on Fotohandel Delfshaven / MK Optics.