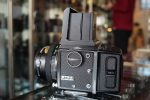 The Bronica ETRS is a medium formar SLR camera that takes 6×4.5cm images. This kit is equipped with a waste level finder and a 75mm F/2.8 standard lens. This kit is very similar in use as the Mamiya m645 but with 1 big advantage: it has interchangable film backs. Because of that you can change film mid shoot and switch to a higher ISO film or black and white for example. The Bronica lenses are known for their super sharp rendering and produce a great printable or scanable negative to work with. Shutterspeeds go down to a whopping 8 seconds. This lens closes down to F/22.
This camera is in great condition. It was recently film tested by one of our good friends and found to be accurate on all speeds, and all functions work as intended. The only small downside is some scratches on the focusing screen, but perfectly usuable. The lens is very sharp and focus is perfectly smooth, aperture is dry and glass free of scratches or marks. Comes with camera body, wlf finder, 120 filmback and the 75mm lens including lenscap. 3m warranty.
The post Bronica ETRS with WLF + Zenzanon MC 75mm F/2.8 kit appeared first on Fotohandel Delfshaven / MK Optics.